Postpartum Life | Valentino Couture Beauty
Towards the end of my pregnancy, I got into reading Parent magazine. Then I discovered the Mom Brain podcast which I have been listening to religiously now. I thought it was strange of me to be so interested in this kind of content when I did little to no parenting research with my first born. Looking back on it, I think subconsciously, I was preparing myself mentally for the change that baby number two would bring. I definitely was in major denial that things could change.
I'm going to admit something to you guys that you'll probably laugh at me for, though if you've been through it, you won't find this funny at all. I thought that resting for a week or two after having a baby, I could just get right back to work. Working from home as a freelance illustrator doesn't seem like a laborious job, so I figured that I'd adjust my sleep schedule and everything would be back to how it was before. The reality of new-mom-to-two-kids hit me hard. I was fighting to make my old life and new life fit together seamlessly. In the midst of all the chaos I would think, "I was just figuring out my life as an artist, a wife, and as a mom. How have I lost control of everything?!"
I didn't feel like I was suffering with postpartum depression because I didn't resent my baby and I still found joy in my usual hobbies like watching a lot of Netflix. I figured I was experiencing some baby blues, but I hated the ambiguity of that term. I wanted to know why I would just sit on my sofa and stare out my window watching time pass by and feeling numb. I wanted to know why at the mention of Kurt Cobain's name, I went into this hole were I listened to Nirvana's Nevermind album while looking at photos of Kurt feeling so so sad. I wanted to know why I was shaking with anger when my baby wouldn't calm down and sleep. I wanted to know why it was so difficult for me to ask my husband for help when I knew so well that he was very willing to help. I wanted to know why I was so terrified of the night time and why it felt soul crushing knowing that I would be up by myself all night. I was sad, alone, and angry. I understood that it was hormones, but I got frustrated with myself for not being able to get a handle on my emotions. In fact, I hadn't felt or acted like this since I was a teenager (the listening to Nirvana and being sad about Kurt Cobain should've have given it away)!
Daphne Oz and Hilaria Baldwin of the Mom Brain podcast had Dr. Alexandra Sacks as a guest to discuss insecurities and fears in motherhood. This episode could not have come at a better time in my life (I was 4 weeks postpartum and desperate for answers)! Dr. Sacks introduced a new term, matrescene. Similar to adolescence, it's a transitionary period in a woman's life after giving birth. Sacks' explanation of matrescence was the answer to why I was feeling the way that I was feeling.
Everything needs to shift to make room, at least in the beginning. So this change for a woman is physical, it's hormonal, it's psychological, it's cognitive. It's an intense demand and the literal body that you're in is changing, and the sleep that you're able to have is changing, and the support that you're able to get by nurturing your other primary bonds of intimacy with your partner are changing. It's a development shift: matrescence.

Teenagers are all over the place in bodies, in hormones and in their social roles. When we see teenagers struggling we don't just assume they have depression. To not feel like you naturally know what you're doing, to not feel like you have your bliss, to not feel like you have everything under control, we do not expect teenagers under those similar circumstances to have [depression]. It's an awkward phase. The same is for new motherhood.

If you're someone who entered motherhood or pregnancy with life really under control: you knew who you were, you knew how to interact with people, you knew what to expect from their interactions with you. You could count on yourself.

That is what really shifts is that you know you had a train of thought and now it's completely gone. You have to get to know yourself in a new way too. All your most deeply held conceptions of who you are and how you function in the universe have completely changed over night.
So science proves it, we never outgrow puberty! Seriously though, Dr. Sack's words were like revelation from heaven! I wiped away my tears that had Kurt Cobain's name written in them (that's poetic), relieved to know that I had simply entered into a new stage of life and that everything that I was experiencing was normal under such drastic change. The melancholy was normal. Reverting back to my 16 year old self, normal (well, not really reverting, but man, so many parallels). The feeling of lost when I came home from the hospital to find that my baby boy had become a boy overnight was normal. The tension between my husband and I was normal. Feeling like my husband was a stranger was normal. Feeling like I was a stranger to myself was normal (this was the worst of all). THIS is normal.
Finally understanding why I was struggling and knowing that it's normal has made the change bearable. I'm giving myself plenty of slack when it comes to my emotions and when I do something out of character. I'm being patient with my recovery because I will recover. Most importantly, I can talk to my husband about my feelings without being embarrassed or feeling judged. Change sucks at first, but once we adapt, we'll get attached to it and we won't be able to imagine our lives before that change. So here's to getting to know my self in a new way and to making room for all this new-ness (and here's to you if you're going through this too). Be patient. Give yourself some slack (and your spouse/partner as well because although their change may not be as burdensome as yours, they're going through change as well). This too shall past. Now enjoy this photo below of my postpartum belly hanging out on my desk as well as the other photos of my first painting since having baby girl.
Link to the Mom Brain podcast and resource for help with postpartum depression are linked below.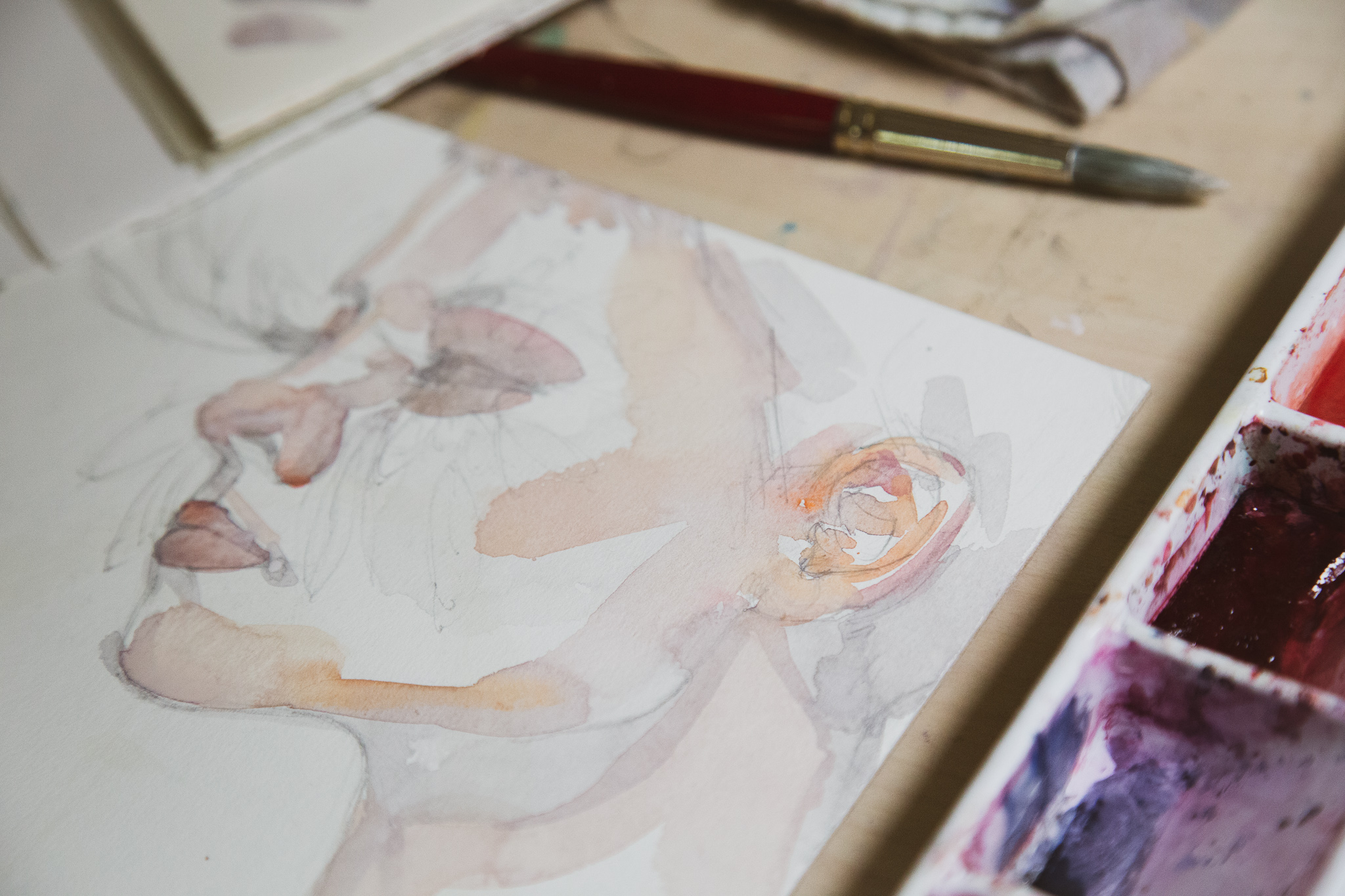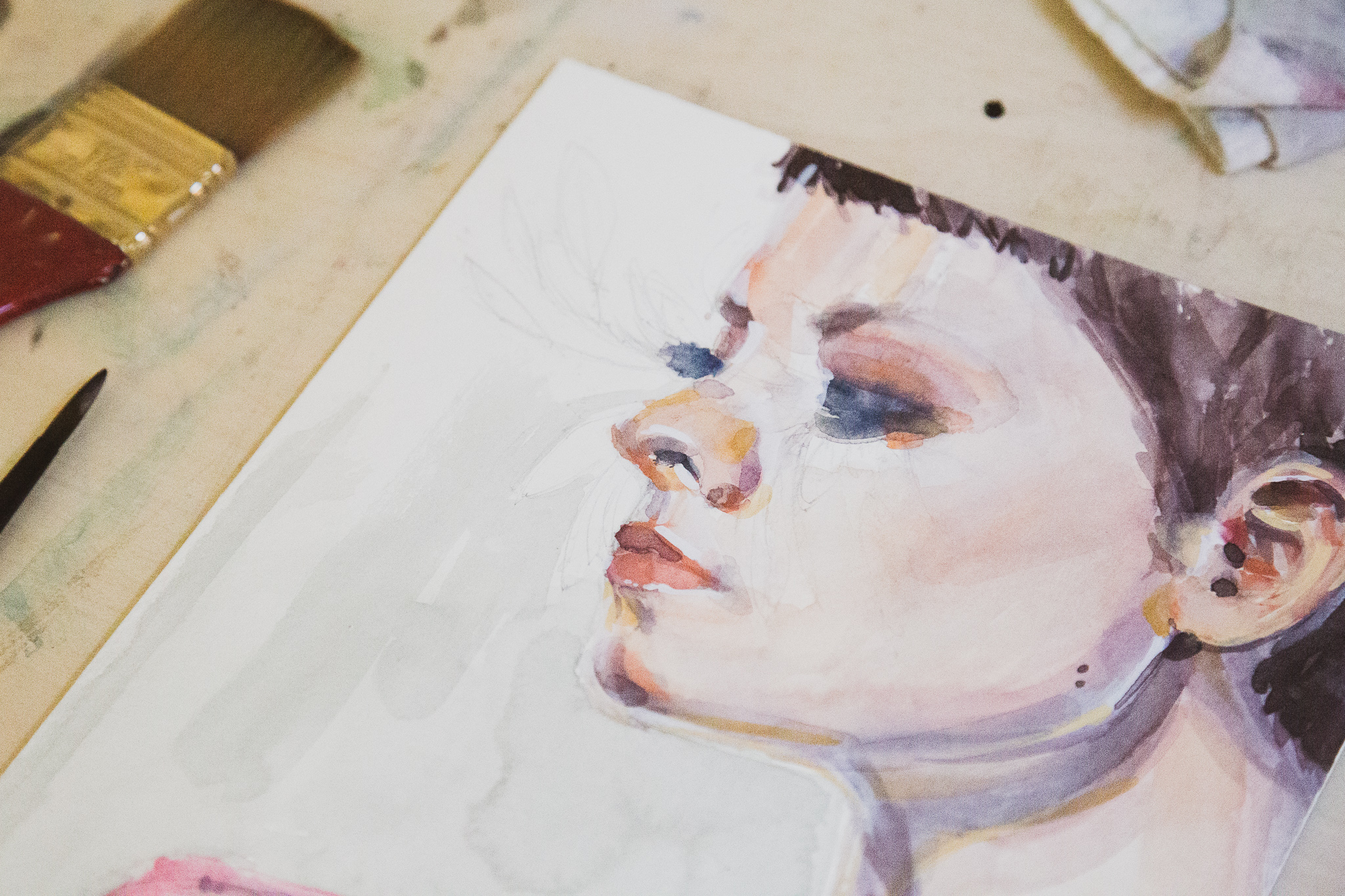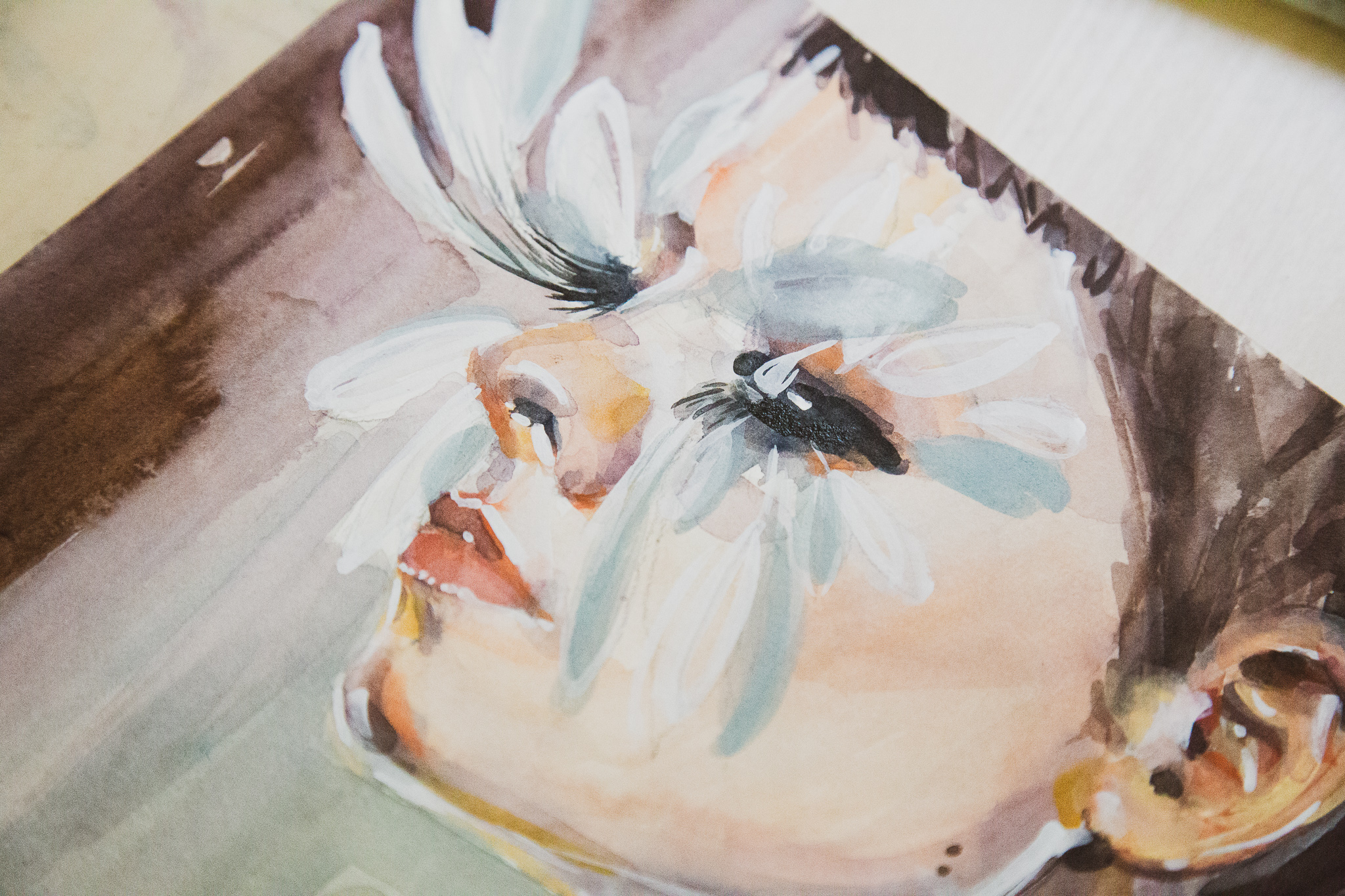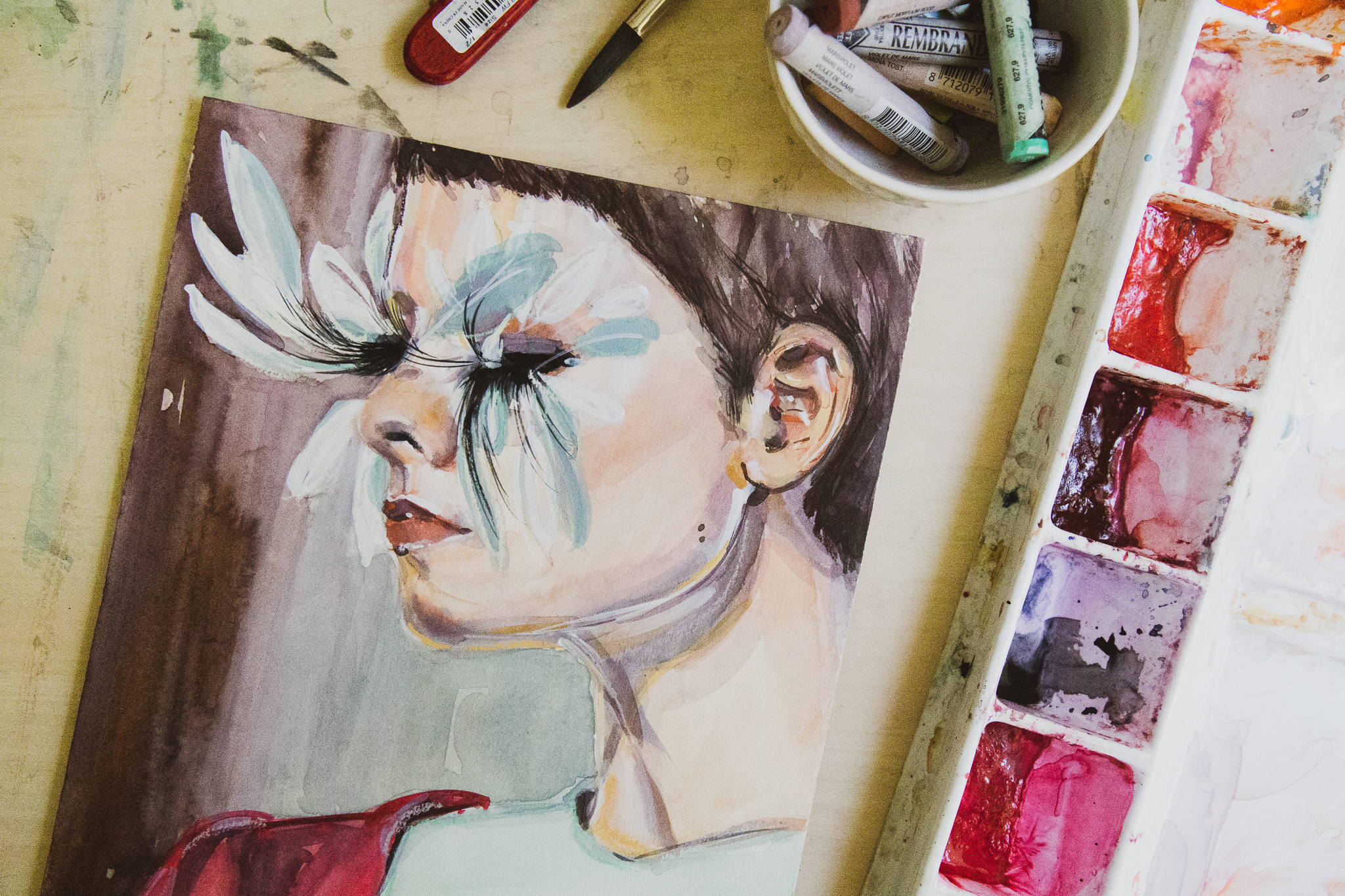 Mom Brain episode with Dr. Alexandra Sacks here
New mommas, if you feel you are suffering from postpartum depression and need help OR you're not sure if you're just in that adjustment stage (matrescence) , please visit https://www.postpartum.net/get-help/help-for-moms/ or you can call 1.800.944.4773. Don't hesitate to reach out!